Carl Pavano Starting Opening Day? Yanks Are Doomed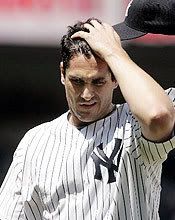 There are some things in the sporting world I just don't understand. Probably right at the top of that list would be Carl Pavano starting the 2007 season opener for the New York Yankees. Yes, I understand that Chien-Ming Wang got hurt, but please, Carl Pavano wouldn't even beat out Dontrelle Willis to start opening day for his previous team, the Marlins.Â
To give you a perspective on the Yankees, you would be lucky if your entire fantasy baseball roster was full of them. Think about it — it's an All-Star at every position — literally. Matsui, Damon, and Abreu in the outfield are as solid as it gets. Going through the infield you have A-Rod, Jeter, Cano, and Doug Ment-kay-vich?!?!? at 1B, Posada behind the dish, and Giambi DH-ing. I said it last year — you'd be hard pressed to find a better lineup than that, probably ever. Those guys combined for over 30 All-Star appearances, just think about that.
But man, when you consider the pitching in the rest of the division, you have to wonder how the Yankees rotation became so pathetic. Let me say this, there is at least one pitcher on every other team in the AL East I'd rather have starting Opening Day than Carl Pavano. Give me Kazmir, give me Bedard, give me the Red Sox No. 3 Josh Beckett (let alone Schilling and Dice-K), and of course I'll take Roy Halladay, and even AJ Burnett, all over Hot Carl.
It's this type of thinking that makes me wonder — why isn't Mike Mussina starting the opener? What has he done wrong? Has he not earned his Yankee stripes? How can he possibly be held with more contempt in the eyes of the Yankees than Carl Pavano? Andy Pettitte's a better option than Pavano, but he just came over to New York, so I understand how it would be somewhat disrespectful for him to be up there. But why not the Moose? This is insane.
When you look at the Yankees and see the incredible offense, it's enough power to guarantee 95 wins. But when you look at the starting pitching (and I realize this has been the problem for quite some time), it's very average. There's no wonder the Yankees haven't won a World Series since the days Brian Cashman didn't have donuts under his eyes.
Unfortunately for New York, it's not fantasy baseball. Real baseball is all about the pitching. And when you have Carl 'effin Pavano starting your season opener, you better pray (and pay) to get Roger Clemens, otherwise you're toast. Memo to all fans of the Bronx Bombers: unless you sign Clemens and pull off a serious trade, you can kiss 2007 off, just like the past six years.