Why Wasn't David Price in Earlier?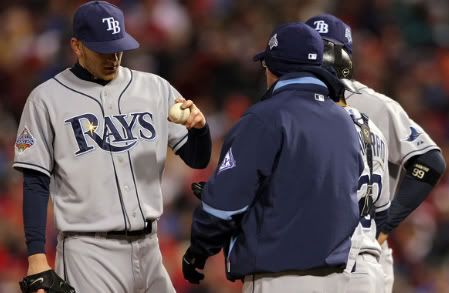 Look, I'm not saying that the Rays would have won the game otherwise, and I'm certainly not saying that the Phillies didn't earn the World Series title — they did. But if there's one issue I have with the way Game 5 finished out, it was that David Price didn't enter the ballgame until it was too late. I know there were some complexities because the pitcher spot was due up 4th in the top of the 7th for the Rays, so you had to realize that whichever pitcher started the 6th would probably be lifted for a pinch hitter afterward. Funny thing though: J.P. Howell relieved Grant Balfour in the 6th and wound up batting in the 7th (he put down a sacrifice bunt) anyway. I've said it before and I'll say it again: whenever possible, I always want to lose with my best available pitcher on the mound. Plain and simple.
People in Boston get upset about Grady Little leaving Pedro Martinez in too long against the Yankees back in '03. I still say I'd rather lose with Pedro on the hill than some chump like Mike Timlin, you feel me? Even though David Price is extremely young, he has the best stuff of anyone that was available in the Rays pen in Game 5. To me it's a no-brainer who you trot out there — you go with your best pitcher — David Price. What's the worst thing that could happen? A veteran like Pat Burrell touches him up for a home run and they lose 3-2? How is that any worse than Geoff Jenkins beating Grant Balfour, Pat Burrell beating J.P. Howell, and Pedro Feliz beating Chad Bradford, in that order? Even after the double to Burrell, how don't you put Price in there to try and get the critical strikeout so that the runner isn't moved to third base with less than two outs?
I hate to nitpick here, but it's no secret I was pulling for the Rays so it just bothered me seeing Joe Maddon handle his staff differently from the way I would have. And just so you know I'm not a results-oriented Monday Morning Quarterback, I thought Maddon mismanaged the 8th inning of Game 7 against the Red Sox pulling Garza too early and bringing Price in too late there too, it just happened to work out that time.