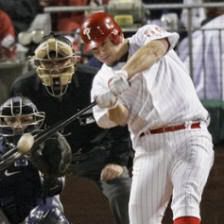 Something about unexpected home runs in the playoffs has yielded some fantastic quotes lately. We had Matt Stairs admit all he does is swing for the fences. Now we have Joe Blanton, the Phillies Game 4 starting pitcher, say the home run he hit in the 5th off Edwin Jackson was just pure luck.
"I just close my eyes and swing hard in case I make contact," said Blanton. "That's really the only thing I can say."
…
Blanton had one hit in 16 at-bats since the Phillies acquired him on July 17 for three minor leaguers. The uh, slump, dropped him to 2-for-26 (.077) in his career. He raised his career average to .103 last night and – while it's mildly amusing to point out the puny numbers – the fact is Blanton has more hits this World Series than Tampa Bay's Carlos Pena and Evan Longoria.
Honestly, between Blanton in Game 4 and Brett Myers against the Dodgers in Game 2, what is up with the Philly pitchers creaming the ball? And how brutal is that for the Rays when Joe Blanton has out-hit their number three and four hitters for the series? I may be wrong here, but just like Ryan Howard getting hot, the Rays big hitters may be poised for a break out. Unfortunately they'll have to face Cole Hamels to get it done.
Google+