Nationals Jump the Gun Extending Ryan Zimmerman for $45 Million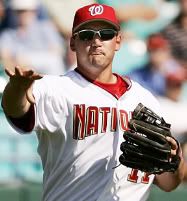 OK, so I see all the positives there with third baseman Ryan Zimmerman. He was a first-round pick by the Nats in '05 coming out of Virginia. He made it to the majors the same year he was drafted. By his second season he had surpassed the 100 RBI mark, and in '07 he played in every game belting 24 home runs and scoring 99 runs. And the guy plays good defense, too. So I see how quickly he's developed his career and why the Nats would have been eager to extend him … three years ago. Now we're in '09 and the Nats have garbage pitching, Zimmerman's coming off an injury, and he hasn't taken that next step despite showing excellent promise. For all those reasons I'm wondering why the Nationals were so eager to negotiate a five-year $45 million extension for Zimmerman, especially in this economy.
Even two years ago I still would maintain that $45 million is overpaying for Zimmerman — by a good 20-25%. When you're 2-10 you need to manufacture interest in the club, but this move would make me question the organization even more, not be pleased that the team has signed a "cornerstone" for the next five years. I understand the whole homegrown talent, local kid angle, but an average of $9 million a season for a guy putting up slightly better numbers than Casey Blake makes me scratch my head. The only positive aspect of the deal is Zimmerman's reaction. The guy clearly has his head on straight:
"It just gets to the point where you think, 'How much [money] do you really need? How much do you need, and do you really want to be here?' I think that's the most important thing," Zimmerman said earlier this year. "The whole point of being a free agent and having a negotiating power is to play where you want to play. And I don't really need to go into that. I'm happy here."
If he does have a good attitude about things it's probably because he knows he just got some excellent security he really didn't earn. He's much closer to Casey Blake than he is to David Wright.