Ned Yost Should Take Blame for No-No
I'm not one to take a leak on another man's greatest accomplishment, but that's exactly what I'll be doing here. Justin Verlander's good, actually really good. But he did not have to be no-hitter good on Tuesday night. The probability that he would have held the Brewers to no hits could've been lowered. And dare I say avoided. See, when I look at the boxscore for the game, something stands out to me almost as much as the actual no-hitter — the Brewers lineup. Take a look at it: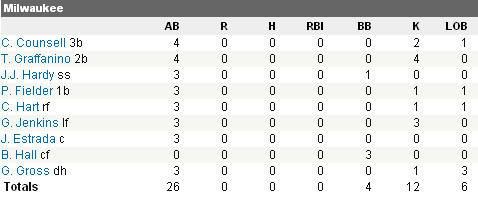 Sorry to say it, but Milwaukee can field a better lineup than that. Come on, Craig Counsell and Tony Graffanino hitting one and two? Phil Garner's 7th and 8th spot of Adam Everett and Brad Ausmus are laughing at that top of the lineup. Plus, Yost gave third baseman Ryan Braun the day off. Braun has been arguably Milwaukee's best hitter since his callup a few weeks ago, making Tuesday night's day off ill-timed. Additionally, Yost used Gabe Gross for the DH spot, leaving the great Kevin Mench on the bench, another poor choice if you ask me.
Hey, it may seem like I'm nit-picking here, but I really feel like this whole situation could've been avoided if Yost did a better job of choosing his lineup. Then again, if every important baseball decision were left up to me, then these poor men would be out of jobs. So I guess it's kind of like my community service or something. In the end, I'll say it was an impressive no-no for Verlander that could have been avoided.
Oh, what do you know? It's Doug Melvin on the phone for a conversation. Sorry guys, don't expect the morning paper and usual posts until later today, I have an interview to prepare for.