Ozzie Guillen Has Never Smoked Weed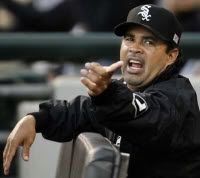 The same weekend Lou Piniella admitted he toked the devil's lettuce but didn't enjoy it, White Sox manager Ozzie Guillen had to respond to the same question. Ozzie's answer probably was surprising to most:
"A lot of people think I'm in the [stuff]," Guillen said. "I'm not. I never did in my life. Thank God."

Guillen said he has been surrounded by too many important people whose lives were influenced by drugs and alcohol.

"I have my brother, who has some problems, and I don't want to go through those problems," he said. "Because I have a few friends and a few members of my family with drug problems, I don't want to go through that."
Even with that being the case, it's hard to imagine anyone, especially a pro ballplayer, never having tried it. I guess Ozzie's craziness is all natural, which is nice to know. The guy's a natural born nutcase. In case you're wondering about the line of questioning, it all arose when Cubs catcher Geovany Soto was busted by a WBC drug test and said he would never do it again. Maybe MLB should make an exception for Milton Bradley — that guy sure could use a chill pill blunt or two.