Eva Longoria and Mario Lopez Getting Cozy, Where's Tony Parker?
Probably not the type of distraction T. Parker can use while his Spurs are on their rodeo, but looks like his wife Eva Longoria has been out getting cozy with Mario Lopez lately. It's not much of a surprise that Longoria and Lopez are hanging together — their friendship is well-documented — but they've been known to have dated in the past. In other words, that can't be a good sign for Tony and his relationship. Getting to it, Longoria and Lopez were spotted dining together in LA, and Mario was lavishing Eva with quite the gift: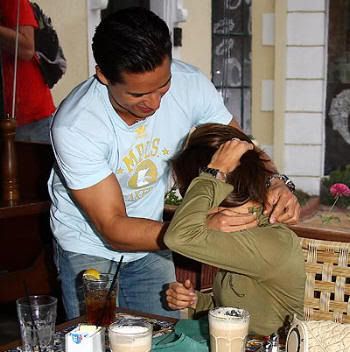 Now I don't know if Marcellus Wallace would consider this a foot rub, but where I come from, this isn't exactly appropriate conduct for a married woman. It's not much of a surprise on Mario's end — rumors say that's why Ali Landry divorced him — so this is just poor company for Eva, it would appear. Not exactly what Tony needs right in the heat of the playoff race if you ask me.