O.J. Mayo: 'I May Have Some USC Money Left Over'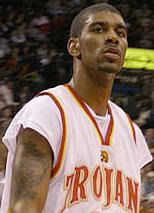 I stopped reading ESPN the Magazine a little over a year ago, about the time they made it perfectly clear that they didn't give a crap about their product. The reason I give this background is to explain how I missed the following quote that appeared in the November 30th, 2009 issue of The Mag. From the OC Register USC blog via LBS contributor Botros:
Mayo, formerly of USC and currently of the Memphis Grizzlies, was the subject of Kenny Mayne's Outtakes. At the end of the Q&A, Mayne invited Mayo to the Breeders' Cup.

Mayne: "… I want you to bring all the cash. Bring the NBA money."

Mayo: "I'm just a rookie, man. I mean, I'm just a second-year player."

Mayne: "Aren't there mandatory minimums? You guys all make $40 million by this point."

Mayo: "Well, I may have some USC money left over."
Mayo of course said that in jest, but it's been documented that he received thousands from Rodney Guillory who was allegedly serving as a runner for an agency. Making matters worse was the report that coach Tim Floyd even hand delivered cash to Guillory. That's some filthy stuff if I've ever heard anything. The quote from Mayo comes at an interesting time for USC because on Sunday the news came out that they were self-imposing punishments on their basketball program for NCAA violations that occurred while Mayo was in school. It was a nice P.R. move by USC considering their efforts to have the basketball program take the fall in order to spare the football team in the Reggie Bush investigation.
There are a few problems and questions I'd like USC to answer. One, why does Tim Floyd get fired, O.J. Mayo skip town to the NBA, and the man who presided over the mess, A.D. Mike Garrett, wind up absolved? Next, how difficult was it for the Trojans to suspend themselves from postseason play when they're far from being an elite team this year? They're also planning to cut down on recruiting — which is difficult to police, cut down on one scholarship, and return some money to the Pac-10 (about the same amount they make selling a couple football jerseys). It all amounts to very little punishment for the basketball program compared to the embarrassment Floyd, Garrett, and Mayo caused the USC program and the NCAA. O.J. Mayo may have been joking with his statement, but there definitely was some truth to it.