Why Doesn't the NBA Re-seed?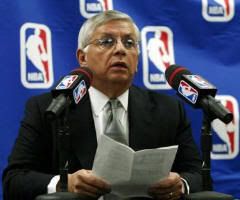 When I posted a few days ago asking why the Jazz and Heat were considered the No. 4 seeds in their respective conferences, despite having inferior records to the teams who were seeded 5th, and despite not enjoying the home court advantage typically bestowed upon a higher seeded team, another excellent point was raised. Both Jason and Sunofa pointed out in the comments that one aspect of the NBA playoffs that sucks is the fixed bracket system.
Under the current system, the top two teams in the West, San Antonio and Phoenix, will be forced to play each other in the next round, rather than in the conference finals. That means one of the Warriors and the Rockets/Jazz series winner will be getting to the conference finals without having as difficult of a path to get there as they should. With Dallas being eliminated, I think it's safe to say that the match up everyone wants to see out West is Phoenix and San Antonio — but not in the second round.
Same thing with the Eastern Conference — there's no doubt the Pistons should be playing the 6th seeded Nets, rather than the 5th seeded Bulls. In case you missed it, Chicago had the third best record during the regular season, yet Detroit gets the reward of having to play them in the next round, rather than the .500 Nets. Doesn't make a whole lot of sense.
The NFL re-seeds, MLB re-seeds, and the NHL re-seeds. Why doesn't the NBA?