Yao's Tired of T-Mac's Injuries, Wants Team to Move on Without Him?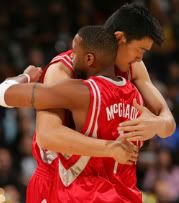 UPDATE: Yao says the story is B.S., no surprise.
Building an NBA team with Yao Ming and Tracy McGrady is like starting a rotation with Mike Hampton and Carl Pavano. Yao's constantly been plagued by foot injuries and has missed at least 25 games each of the past three seasons. T-Mac's got knee, back, and shoulder issues and has been in and out of the lineup the past few seasons. Even when he's trying to soldier through the pain, he's often nowhere near full strength leaving us to wonder whether or not he's doing more harm than good. Instead of playing limited minutes in games, T-Mac's decided to sit out two weeks to try and let his surgically repaired knee heal. Sounds like it makes sense. Problem is the injuries and missed games are mounting leaving the Rockets wondering if it's time to move on:
The Rockets are putting a positive spin on this, but Waiting for Tracy is a play that nobody in Houston wants to see anymore — up to and including the big man, Yao Ming.

"They don't speak," an extremely plugged-in person tells me. "And Yao wants him out."
…
It's not personal between Yao and McGrady. They like one another. But Yao's frustration is real. And Yao is not the only person that's grown tired of McGrady's self-diagnosis, his up-to-the-last-minute decisions on whether he'll play or not.
It's really an unfortunate situation all the way around. As David Aldridge writes in his article, the two like each other — something that's quite apparent when you see them interacting. It's just hard to build a team around an unreliable dude. T-Mac had a great prime but now injuries have crushed him. He's damned if he does and damned if he doesn't; play through the pain and his skill is diminished, sit out and he's only helping by subtraction. I can understand where the Rockets and Yao would just feel like it's time to push on without him since it's hard to count on T-Mac. Looks like they're not the powerhouse everyone was expecting when Artest was acquired though they still can be dangerous.
By the way, this is a bigger story of teammate relationships than T.O./Romo/Witten, but since it's the Rockets and not the Cowboys, ESPN won't pay it much mind.
(via Matt Watson at FanHouse)