Don King's Million Dollar Wild Ride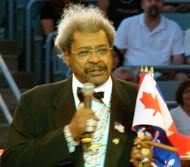 Can you just imagine the imagery? 78-year-old boxing promoter Don King roaring down the highway with two duffel bags of cash holding 500 grand a piece? That was the case on Saturday night when the decrepit promoter sped in his car to a Florida courtroom to post bond and make an injunction official. To quote King: "I felt like I was Clint Eastwood in a movie, speeding down the highway with a fistful of dollars." Why was he speeding to get there and make an injunction official? He was single-handedly ruining an entire MMA pay-per-view card scheduled for Saturday night that included his boxer, Ricardo Mayorga.
King's lawyers had been arguing in a Fort Lauderdale courtroom that Mayorga couldn't fight on the Shine Fights card taking place in North Carolina Saturday night. King's contention is that he's Mayorga's boxing promoter while Shine Fights was saying they're promoting Mayorga for an MMA event. The Broward County judge ruled in King's favor so Don had to make the injunction official by posting the million dollars bond. SI says Mayorga was first told he couldn't fight on the card and then later the North Carolina boxing commission canceled the entire card. A full on pay-per-view event set to take place in the Crown Coliseum down the drain, all because of King and Mayorga. Only in America can Don King get away with this (and two murders …).
Sources:
King wins Mayorga fight dispute [Josh Gross/SI]