CBS Replacing Billy Packer with Clark Kellogg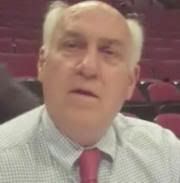 Now all we need is ESPN to do the same with Joe Morgan and the Angels with Rex Hudler. Though Clark Kellogg wouldn't be the replacement of choice. Anyway, the Miami Herald reports that CBS is letting Billy Packer go after 28 years with the network. This decision means that Packer won't be providing commentary for his 35th straight Final Four, most likely. It doesn't take me saying it for you to know that Billy Packer is an old and crotchety dude who's expressed an inability to adjust to the times. Honestly, how's Packer supposed to properly commentate on these games without using the best resources available to him, like say for instance, a computer. This news also comes about a year after Packer got into some hot water for making a "fag out" comment in an interview on PBS.
Between the "fag out" comment and Packer's proclamation that the Kansas/North Carolina game was over with 27 minutes to play, suffice it to say that CBS had had enough. The only problem is Packer's replacement — Clark Kellogg. He's a nice enough dude who obviously knows the game, but he's too even-handed in his analysis. Maybe getting him out of the studio and putting him courtside will bring out his best. Whenever they do pre-game analysis and expert picks, he never takes an actual stance giving a real pick, he just explains how both teams can win. Gee, like I didn't know that Carolina can win if Hansbrough dominates, but that Kansas can balance things out with their guard play. Like I said, hopefully Kellogg's best will come out in game analysis courtside.