Brian Baldinger: Jon Gruden Wouldn't Work at Tennessee or in College Football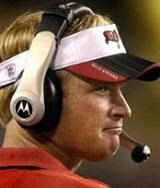 There's been a tremendous amount of speculation about Buccaneers head coach Jon Gruden leaving the NFL to fill the head coaching vacancy at Tennessee now that Phil Fulmer is out. A lot of the rumors and speculation revolve around Gruden's ties to Tennesse as a one-time grad assistant with the Vols, and the fact that he still owns property in the area. But NFL analyst Brian Baldinger disagreed with the speculation saying that Gruden would be a bad fit at Tennessee. He gave his reasoning on The Arnie Spanier Show:
"Jon [Gruden] might have the most complex playbook in the whole NFL. That's why he can only co-exist with a veteran quarterback. Chris Simms didn't have a chance of digesting that playbook — you've gotta have Jeff Garcia or Brad Johnson or Rich Gannon. If you took that playbook to college with 20 hours a week, with 15 spring practices, he would be doing back flips in angst when they couldn't digest his playbook. It would be a horrible fit, just that alone would be a horrible fit."
When you think about the point Baldy makes, it's hard to disagree. The facts are staring you right in the face. And that's coming from the same analyst who proclaimed on the radio that the Falcons would be the surprise team in the NFL this year, winning around eight games as opposed to the four or less most idiots thought. His reasoning? He broadcasted their preseason games and felt that Matt Ryan was the best quarterback to enter the league since Peyton Manning. I'll take his word for it. As for Chucky, maybe he can continue to stroke the Tennessee position to gain leverage for a fatter contract with Tampa Bay.