See Ray Run, Ray Rice for Heisman!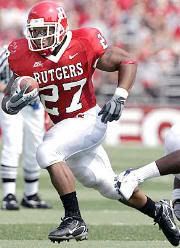 If there's any rhyme or reason behind Rutgers' recent surge to competitiveness and popularity — besides Greg Schiano — it's their P.R. department. They are flawless. Probably the greatest group I've ever worked with when it came to interview requests. And this story fits right in. As Ben Maller pointed out, the athletic department has created the website SeeRayRun in order to promote Rice for the Heisman. The mission statement of the site is as follows:
Welcome to the official website for Heisman Candidate Ray Rice. Throughout the 2007 season, the site will be updated with stats, photos and video highlights as Ray runs his way into the Rutgers record book.
Even better, the New Jersey Star Ledger says that a SeeRayRun themed gift will be sent out to reporters across the country. Speaking from experience, if there's any way to get the media in your favor, a good meal and a nice gift are excellent starting points. All P.R. directors and media relations departments should take note. Now this is how to promote a player. And it's much cheaper than buying a billboard in the middle of Times Square.