UCLA Completes Four Passes, Beats Oregon, Dorrell Lives, Rose Bowl Alive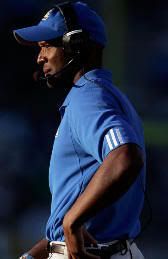 A few weeks ago, I thought Dorrell had lived his last life. Apparently this cat has twenty of them. Somehow or another, the Bruins beat Oregon, eliminating the Ducks from Rose Bowl contention. UCLA completed four — count em — just four passes in the ballgame. Yikes. Luckily for UCLA, Oregon was in similar quarterback hell, alternating between second, third, and fourth stringers. So what does this all mean? In this effed up world of college football, the Bruins are still alive in the Pac-10 race. They beat USC (yes, I'm laughing to myself), while Arizona knocks off Arizona State, and they're in the Rose Bowl. Of course, give me a 95 mph fastball and I'm in the majors, you feel?
If UCLA could win a game in which they only completed four passes, why couldn't they do the same thing against Notre Dame? Maybe Dorrell and the Bruins' staff wasn't sharp enough to figure out on the fly that they should just run the ball with a fourth string quarterback rather than let them throw passes and get picked (as Mike Bellotti did). So UCLA will likely finish 6-6, ruining at least one season in the process. Callahan, Morriss, Orgeron, Carr, and Franchione are gone amongst others. Will Dorrell join the group? I think and hope so. The numbers speak for themselves. But I'll be darned if this guy hasn't put fans on one hell of a roller coaster ride. And damn, he sure does have far too many lives.