Anquan Boldin Wants Out of Arizona Because He Was Lied to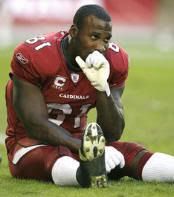 The offseason just got more interesting in the NFL with Anquan Boldin's most recent comments. If you can remember back prior to the start of the season, he was a headcase and upset at the team's management for not giving him a new contract as they had promised. The team had just got done signing Larry Fitzgerald to big money and Boldin wanted his cut. Well he never got his deal and bitched about it, but when the season started, you didn't hear from Q. Now that the Super Bowl run is over and the offseason has begun, Anquan Boldin made his feelings evident to USA Today:
"I don't think the relationship can be repaired with the organization. It takes more than, 'Well, we did you wrong and we'll pay you this.' It's not about the money. It was always about the principle. Guys being true to their word. I guess I was expected to uphold my end of the bargain, and it wasn't reciprocated."
To make matters worse for the Cardinals, Kurt Warner who's been wishy-washy about returning next season, says Boldin's presence will weigh heavily on his decision to return or retire. Even though Boldin doesn't definitively say he won't be back with the Cardinals, it looks pretty darn certain that he's gone. And if I had to make a guess, Warner will still decide to come back regardless. Oh yeah, and did I mention that Edgerrin James is as good as gone? I'm going to go out on a limb and say the Cardinals won't be back in the Bowl next year.