Brett Favre Helping Opposing Teams Beat the Packers?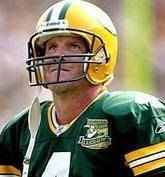 Look, holding the Packers hostage for about the past three years was pretty horrendous. Bitching that the organization didn't pull off a trade for Randy Moss was not a good thing. Asking to come back and then demanding a trade is nuts. But spending hours on the phone with opposing teams that are getting set to face your former team — the Green Bay Packers — that's almost unconscionable. That's also the latest scoop from reliable information man, Jay Glazer. As he wrote on Sunday:
Several sources have told FOX Sports that Favre earlier this year phoned the Detroit Lions prior to their battle versus Favre's old team, the Green Bay Packers, and gave them a rundown of the nuances of what Green Bay does on offense. According to the sources, Favre actually spent over an hour on the phone with Lions coaches, who were connected with Favre by then-team president Matt Millen.
Whattayouknow? Matt Millen was actually useful for something after all! Seriously though, if it's true, that would be pretty pathetic on Favre's part. It does appear as if he harbors some sort of animosity towards Packer management for their falling out, so I guess I wouldn't be too shocked to hear it. And you know what, seems like Favre is quite the busy man on the phone anyway, so you can't really discount this report. Good thing is though, whatever Favre is telling people doesn't seem to be making much of a difference because the Packers are 4-3 without him. Green Bay 1, Brett Favre 0.