Jay Cutler and Josh McDaniels Starting Off on the Wrong Foot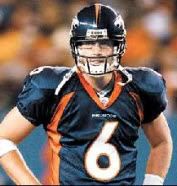 This probably was not the way Josh McDaniels wanted to kick off his era as head coach of the Denver Broncos. Apparently trade winds blew their way to quarterback Jay Cutler, who found out that the Broncos were fielding phone calls and entertaining the thought of dealing him in a three-way trade. Those rumored trades never happened and Matt Cassel got dealt to Kansas City along with Mike Vrabel. Considering Cutler never got traded, the Broncos would have been best served to keep the word of trade talks to themselves. Somehow word slipped out however and Jay Cutler is not happy about it:
"My understanding at this point is they're trying to trade me. We'll see where I end up at. I liked it here, I liked playing with these guys but obviously they're not going to let me have that opportunity."
…
"I'm upset. I mean I'm really shocked at this point," he said. "I could see why they want Cassel. I don't know if they think I can't run the system or I don't have the skills for it. I just don't get it. Or if they don't think they can sign me with my next contract. I just don't know what it is. I've heard I'm still on the trading block."
Funny how Cutler used the past tense, making it seem like he's already gone. Now that the team didn't get Cassel, there's no question in my mind that he'll be back as the team's quarterback, so he'll have to change his attitude. McDaniels may have tried to downplay the incident by saying that Tampa Bay initiated talks and that they field calls about all the players at this time, but he certainly has his work cut out for him. I'm not sure he needs to buy Cutler a $4 million diamond ring to kiss and make up, but he's going to have to make Cutler feel pretty. As for Cutler, I could see why he'd be upset and I bet I'd be angry too, but he needs to move on. He already had his coach get fired and he needs to get used to the lack of loyalty in this league.