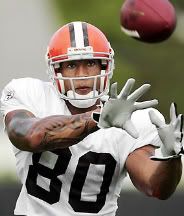 Though Kellen Winslow has quite the rocky past with the media, he has very little history here at LBS. Matter of fact, this might be a first in terms of mentions for K2. There was an easy opportunity I passed on last week when I chose not to get in the middle of Winslow's "undisclosed illness" that caused him to miss the Monday night game against the Giants. I felt it was more important to respect K2′s privacy in the matter. Now Winslow has come out and explained he was sidelined by a staph infection which has been quite the killer in Cleveland. Staph infections have claimed seven players over the last four years, including a near-death situation for LeCharles Bentley. Winslow explained his frustration:
"A big reason I'm upset right now has to do with [the staph infection]," said Winslow. "I heard from Romeo Crennel and I heard from my position coach [Alfredo Roberts] when I was in the Clinic. I heard from my teammates. But I never heard from the main man — Phil Savage — and that really disappoints me. Sometimes I don't even feel a part of this team.

"I feel I've done a lot for this team, played through a lot of pain and given it my all. I just thought there'd be a little more 'how are you doing?' by him."
Winslow said he was so disgruntled that he held back from going T.O. or Ocho Cinco on the Browns. Furthermore, he restrained from requesting a trade from the team at the deadline. I admire all the pain K2 has played through and it does sound pretty inappropriate that Savage didn't call him. Additionally, if Cleveland can't get something as routine as medical care for its players down properly, I wouldn't want to be around either. What the heck is their deal with those staph infections??
Google+