Kurt Warner Actually Says God Told Him to Sign with Arizona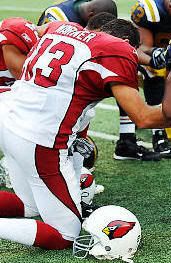 When I first called for the Cardinals to stop screwing around and get Kurt Warner signed already, we joked around that the lord had told him he deserved a raise and that he should use the 49ers for leverage. Well, turns out we weren't too far from the truth. Check out this beauty that Warner unloaded in his press conference on Wednesday regarding his visit with the Niners and ultimate choice to re-sign with the Cardinals:
"[My family] didn't want to close a door if God wanted it open. So that's what we went into it with — 'where does God want us, that's where we're going to be. No matter what the money is or what the situation, that's where we want do be.' Very early in the process in San Francisco, as many good things that are out there, I just knew very quickly that [Arizona] is where I was supposed to be. I told my wife probably 45 minutes into that I felt God say 'you're supposed to be in Arizona'."
It's really a shame that God didn't tell Kurt to hold out for a few months until the Cardinals paid him what he was worth, because that's really what would have been fair. Why was the lord siding with the cheapskate Bidwells on this one? Why didn't God send the Bidwells a message in their sleep to pay Warner the fair amount of $29 million instead of $23 million? One other tidbit I'd like to add is that I'm pleased Warner called his agent and told the agent to get a deal done with the Cardinals, no playing games. A lot of players lose sight of the fact that the agents work for them and should do what the player tells them. Often times agents give players bad advice. Just see Ramirez, Manny.