Chris Henry and Pacman: Like Brothers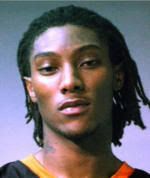 If there's ever a collegiate football program at which you'd like to point your finger, it should be West Virginia under Rich Rodriguez. We've already acknowledged that Rodriguez is like scum of the Earth in college football terms. Think about it — he had both of the model NFL bad boys playing on his squad — Pacman Jones AND Chris Henry. In addition to Pacman and Henry, West Virginia's running back from that time, Quincy Wilson, was no saint. But getting back to it, the currently unemployed Chris Henry joined Tim Montemayor on Sporting News Radio and was asked about his relationship with Pacman. His response probably wouldn't surprise you:
Yeah I know Pacman well — he's like a brother to me. We keep in touch all the time. With Pac and me, we're just young and made some mistakes but we're real good people.
"Made some mistakes?" Yeah, like Roger Clemens had "some" affairs with other women and Karl Malone had "some" kids out of wedlock. Pac and Henry have brought new meaning to boys being boys. Young and making some mistakes is getting arrested once apiece while in the NFL for doing dumb things. Young and making some mistakes does not include about 10 infractions over a three-year span, and being involved in strip club shootings. Why is it not surprising that these two are like brothers? I could imagine them seeing eye-to-eye on affairs. And I sure hope Michigan football knows what they're getting themselves into with Rodriguez. Yikes.