Rex Ryan, Damien Woody, Kris Jenkins in Weight Loss Competition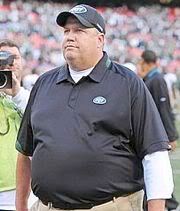 When we said that receiver Santonio Holmes was joining an already animated team, this is exactly what we had in mind. The New York Jets, who will be featured in HBO's Hard Knocks TV show during training camp, have already embarked on a reality show this offseason. Head coach Rex Ryan challenged Damien Woody and Kris Jenkins to a weight loss competition, as he told the team's official site via Pro Football Talk:
"The guys are going to have fun with it," Ryan restated. "There's an offensive player, a defensive player and a 47-year-old coach. The handicappers, I don't know how they're going to view this."
Ryan may be at a disadvantage because he's already dropped around 37 pounds since undergoing lapband surgery. At 311 pounds, Ryan still has a long way to go, however. This seems like a fun, playful competition that can build camaraderie and promote healthy eating. It's good ideas like this that makes Rex Ryan a hit in New York. Now all he has to do is keep winning.
Sources:
Ryan, Woody, Jenkins in Weight-Loss Battle [New York Jets]
Rex Ryan challenges players to weight loss competition [Pro Football Talk]