Vinny Testaverde Will Be Missed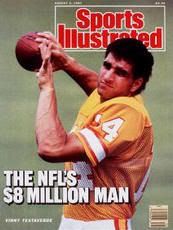 Just as I was making fun of the Niners for starting Chris Weinke at quarterback and brought up a Vinny reference, the news comes across the wire that My Grandpa will be retiring at season's end. In other words, he's done after Sunday. I have to say, it's quite a sad day for me. What other QB do you know who will stick around til they're 44, providing me with endless content? Perhaps Brett Favre? I don't know. Besides, will it even be fun to clown on Favre eight years from now?
Goodness, consider the legacy of one Vinny Testaverde. The man won a Heisman before half of you were born, and he's still playing pro football as of this weekend. And how about this one? He's the only QB in history to throw at least a TD pass in 21 straight seasons. I'm going to venture out on a limb and say that record won't be broken any time soon. Vinny, for all the laughing and humor he provides, has to be respected for his ability to compete at an elite level at such a high age. Hopefully he'll still have a few brain cells left to enjoy retirement.