Caps Choked Talk Will now Commence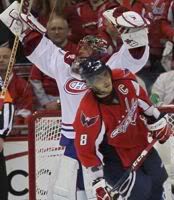 I'm no longer a betting man, but if I were I know I would have put money on the Capitals winning Game 7 against the Canadiens in D.C. I couldn't have been more wrong. With a 2-1 win in Game 7, the Habs became the first 8th seeded team to come back from down 3-1 in a seven game series to beat the top seeded team. Yes, the Caps blew a 3-1 series lead becoming the third Presidents' Trophy winning team to lose in the first-round of the Stanley Cup playoffs since '06. Even more befuddling is that they were the best home team in the regular season yet they lost three home games to the Canadiens. Go figure. Without a doubt, all the "Caps choked" and "Alex Ovechkin is not a winner" talk will begin. I definitely disagree with the latter statement.
The reality with this series is that Jaroslav Halak got hot and took over for Montreal. Halak stopped 131 of 134 shots he faced over the last three games. I don't know which numbers is more ridiculous: the Caps taking 134 shots in three games or Halak stopping all but three of them. Even though the Caps had three chances to close out the series, I put the Game 1 loss partially on coach Bruce Boudreau for starting Jose Theodore in goal instead of Semyon Varlamov who became their man the rest of the series. At the same time, the Habs gave the Caps a break starting Carey Price in net for Game 4.
Prepare yourself for all this talk about the Caps choking and Ovechkin not being a winner. In three years making the playoffs, all four of Alex's series have gone to seven games and his Caps have been 1-3 in those series. Don't buy any of that "he's not a winner" nonsense. Keep in mind that their team was just a middle-of-the-road squad two years ago when they lost to the Flyers in seven. Last year they pressed the Penguins to seven games before succumbing. The Penguins went on to win the Stanley Cup. Ovechkin had 21 points in 14 playoff games last year and 10 points in his seven game series this year. Unfortunately Alex is no Bugs Bunny and does not also double as the team's goaltender.
The reality is that the Caps are an offensive juggernaut with their goaltending being merely average. When they got into low scoring games against good goalies, their netminders weren't good enough to keep the opposing team off the scoreboard. They could use an upgrade in net but I'm also not convinced that Varlamov can't be that guy in time. Call the Caps chokes now but I promise they'll be back with deeper playoff runs in the next several years.
Photo Credit: Getty Images