Vernon Forrest Goes to the Grave, Still Owing me $400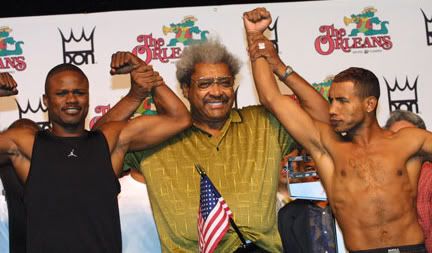 But he taught me one of the most valuable lessons I've ever learned. Some people close to me are familiar with this story while others have never heard it, so there's no better time to bring it up than now. I have a big history with Vernon Forrest that goes back six years to when I was 19 years old, and when he was undefeated. It was at that time that I got sucked into sports betting on a daily basis by a kid on my dorm floor who had just about every bad habit you could imagine (I think he once placed a sports bet on the computer while sipping 151 and snorting coke off a hooker's ass with a cigarette hanging out of his mouth). I had been making money betting on college basketball games and it all stemmed from betting against UCLA because they were so horrible that year (Lavin got fired but the UCLA name still made them favorites in the book, so the formula was quite lucrative). On one particular Saturday, January 25th, 2003, I had made a little over $100 betting on Pac-10 hoops — not bad money for a college sophomore. I was looking for just one final score to get me up to about $150 for the day and I had been eying the Vernon Forrest line for about a week.
Naturally all the degenerates must have had their eye on the line as a way to make up for lost wages during the day Saturday because the odds went from about 1:5 in favor of Vernon to 1:10 by the time I got out of a meeting to place my bet. My $200 bet to win $40 soon became $400 to win $40 and while that sounded bad, I was already counting my winnings so I didn't care — I placed it without thinking twice.
Later that night while working an editing shift at Fox Sports Radio, I went around boasting to my co-workers that Forrest was fighting that night and that he was a lock to win. At 35-0, how could this fighting machine lose to a nobody? One of my friends there told me there's no such thing as a lock, much less a sure thing. Next thing you know, word comes down from Temecula that some crazy, cigarette-smoking Nicaraguan had beaten my boy Forrest, handing him his first loss ever. The $400 hit didn't seem as bad as the result of the fight — a third round knockout — a total f*** you to the face as if to slap me over the head as a reminder of how wrong I was and why I shouldn't ever do that again.
Of course I didn't learn my lesson. It wasn't until the following weekend that I won 8 of 9 college basketball games against-the-spread, betting just around $11 to win $10 on each one when I realized I had only earned back about a quarter of my losses from the previous weekend despite kicking ass on the games. I cashed out my remaining balance with that Aruban sportsbook — an even more painful process than watching Forrest get KO'd — and I accepted my losses. Six months later I went with my best friend to watch the Mayorga/Forrest rematch at The Orleans in Las Vegas, resisting the urge to try and recoup my losses. My friend, who got shot and killed on a Saturday night nearly three years later, bet on Mayorga and collected a nice sum after Ricardo won the decision. Save a friendly office pool here and there, I haven't bet on a sporting event since.
After Forrest was shot and killed Saturday night in Atlanta while he was trying to thwart an attempted carjacking, Vernon was described as a decent, charitable man who helped kids. His death completes a strange circle for me, one in which I learned a life-long lesson about the risks of gambling and how there is no sure thing in life. While I never met the man, his eulogy rings true for me and I thank him for getting knocked the eff out in 2003 so that I could be saved from much larger losses later in life. Maybe my story can help deter you from ever making the same mistake and counting on something as a "sure thing."
Sadly, I'd like to wake up one day and not wonder who the latest professional athlete is to be found dead.