Scoop Jackson Damages Black People in Column on B.J. Upton, Clarifies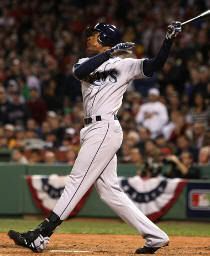 ESPN writer Scoop Jackson penned a column on B.J. Upton explaining that Upton's stellar play in the playoffs could attract young inner-city African Americans to play baseball. I never understood what the claims of the crisis to begin with; baseball is open to all players regardless of race, and nobody is complaining about the dominance of African Americans in basketball or football, are they? Anyway, rather than saying young urban Black kids could watch slugger Ryan Howard lead the majors in home runs, or see Jimmy Rollins win an MVP (both also happen to be in the World Series), or watch CC Sabathia win a Cy Young and then pitch the Brewers into the playoffs almost single-handedly (on a team full of African Americans no less), Scoop decided to choose B.J. Upton as the player who could bring the popularity of baseball back to the African American urban youth. Here was his reasoning:
The fact that Upton's not perfect makes him perfect. His propensity to be lazy (as witnessed in August when he "decided" not to run hard on three different occasions), the fact that Maddon literally pulled him off the field after not running out a double-play ground ball, the meaningless error in the seventh inning of Game 4 that allowed questions about his lack of focus to surface. All display a flaw in him that almost works to his advantage when kids and wannabe baseball players look at him and say "I'm not perfect either, but look, he's still standing."
That logic is so horrendous I don't even know where to begin. Scoop issued a "clarification," saying that Upton's past mistakes humanize him. I don't get it. Clarification or not, Jackson is saying that laziness is a characteristic that African American urban youth will appreciate and admire. It's really a shame that he didn't choose another player like a Howard, Rollins, or even Carl Crawford if he wanted to talk about players still in October. What about Crawford returning early from what was supposed to be a season-ending wrist injury, only to have 5 hits in one game for the Rays? Shouldn't the youth be encouraged to admire that? Or if you choose Upton as the player they should emulate, why not say it's for B.J.'s talent, ability to play through a shoulder injury, and all the practice and effort he put in growing up? I think Scoop is totally missing out here. Thanks to Deadspin for pointing all of this madness out to me.