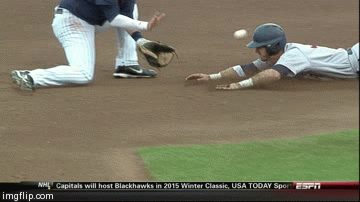 After watching this play on Friday night at the College World Series in a game between Virginia and Ole Miss, there is very little doubt that college baseball could use instant replay.
Virginia star hitter Mike Papi singled in the first inning for the Cavaliers and tried to steal second base with two outs. The throw beat him there, but Ole Miss' infielder covering the bag never had control of the ball. In fact, the ball was actually on the infield dirt in front of second base when the umpire called out Papi.
Though the half-inning initially ended, the umpires convened and decided to overturn the call. The game was being televised by ESPN and went to a commercial break after Papi was called out. When they came back from commercial, the umpires sent Ole Miss back out to the field and put Papi at second.
Not only did I share this because it was such a ridiculous call it needed extra attention, but also just because I like to type the name "Papi" and say it in my head while I'm reading it. Mike Papi. Mike Papi. Mike Papi. Oh, and kudos to the umps for doing what was most important: getting the call right.