Where's the Brotherly Love for the Molinas?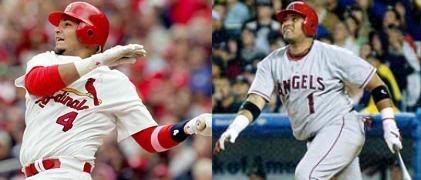 The Molinas are one of 19 families to have sent at least three brothers to the major leagues. Jose is a backup catcher for the Angels, Yadier catches for the Cardinals, and Bengie used to catch for the Angels and Blue Jays, but was signed by the Giants in the off-season.
Anywho, what I'm getting at, is that I figured a family that not only produced three major leaguers, but three major league catchers no less, probably has to be pretty tight. As my FanHouse colleague Matt Watson put it "i figured they all slept in bunkbeds during the offseason." Precisely. That's why I was so shocked when I read this news on the Cardinals website:
Yadier Molina saw his brother, Giants catcher Bengie Molina, for the first time in more than two years Wednesday
What?!? The brothers hadn't seen each other in more than two years? And neither of them were away at war? What's the deal guys? Where's the brotherly love? Unless that's a screw up and it meant they hadn't seen each other in a baseball context in more than two years, I am completely stunned. I know kids on foreign exchange programs who have seen their siblings more recently than that. Pretty jacked up if you ask me. But hey, seems to be a formula for success. Molina brothers = 2 rings. Bonds family = 0 rings.
Oh yeah, somewhat related, one of the biggest mistakes for the Angels was failing to resign Bengie. For being one of the slowest dudes in baseball, he's still an awesome fielder, game-caller, and underrated hitter.
For more on the Molina brothers, check out this article by Jack Curry.
UPDATE: This San Francisco Chronicle article says the brothers hadn't seen each other in over three years, because they spend their off-seasons in different places.