Chris Paul gets Scott Foster to call Timberwolves for costly delay of game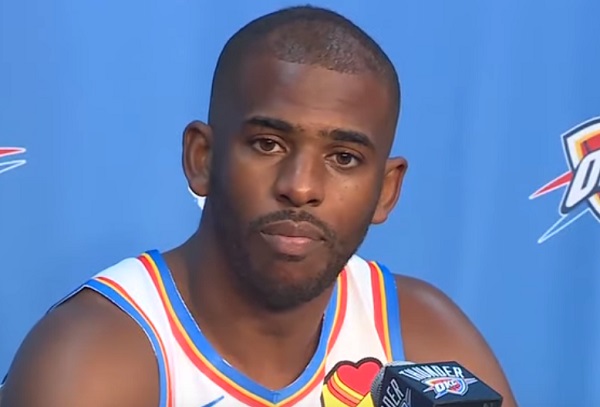 Chris Paul pulled off a savvy move that helped his Oklahoma City Thunder beat the Minnesota Timberwolves on Friday night.
The Thunder were down 121-119 with just over a second left in the game. Karl-Anthony Towns was at the free throw line and had missed his first free throw attempt. Jordan Bell then entered the game for Shabazz Napier, but Paul noticed Bell's jersey was untucked. CP3 yelled that out and referee Scott Foster decided to call a delay of game on Minnesota.
You can hear Chris Paul yell "His jersey untucked, that's a delay of game" just before OKC forced OT (h/t @WorldWideWob) pic.twitter.com/vLVoUccoWL

— Dime (@DimeUPROXX) December 7, 2019
The delay of game gave the Thunder a technical free throw, which Danilo Gallinari made to make the score 121-120. Towns tried to miss the second free throw to force Oklahoma City to have a long shot if any on the rebound, but he made it instead.
Steven Adams then threw a long pass to Dennis Schroder, who made a tough shot to tie the game as time expired.
STEVEN ADAMS TO DENNIS SCHRODER. WHAT A PLAY. pic.twitter.com/SQrbR2cfBw

— Legion Hoops (@LegionHoops) December 7, 2019
The Thunder ended up winning 139-127 in overtime.
T-Wolves coach Ryan Saunders said the technical foul at the end of the fourth quarter was for delay of game on Jordan Bell. Bell was attempting to enter the game with his jersey untucked. It was the second delay of game warning on the T-Wolves in the game. Proved to be crucial.

— Erik Horne (@ErikHorneOK) December 7, 2019
Credit to Chris Paul for his veteran smarts on that move, and to his teammates for the incredible last-second play. And what a blown game for Minnesota. CP3 is like a basketball Bill Belichick; the guy knows all the rules and tricks to gain an edge.