Hatton Calls Out Mayweather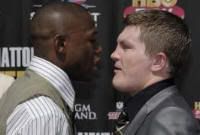 We're now inside a week away from a great fight to end the year — Mayweather vs. Hatton. Of course, you really didn't think we could come this close to the fight without some controversies being drummed up, did you? Right on cue was Ricky Hatton, who called Pretty Boy a wussy in so many words:
"I think he's an insecure person," Hatton said last week during a conference call. "I think that's why he surrounds himself with five or six bodyguards. They always seem to be yes men.

"You know, he always needs people whispering in his ear: 'You're the man. You're Number 1. You're going to do this, you're going to do that.'

"That's all a sign of insecurity. . . . If you believe you're the best, then you don't need anybody reminding you or reassuring you."
Hatton would rather roll solo, sipping on some pints. He provides a nice contrast to the flashy Mayweather, who's been known to make it rain from time-to-time. Funny thing is, I believe that's going to do Pretty Boy in. While I think Mayweather's a wildly talented and slick boxer, I'm worried about the Dancing With Stars curse. Anyone who is worrying about improving his 1-2 step rather than his left-right combo doesn't have his head in the right place. I'm going with Hatton on Saturday night. Be prepared for more pre-fight analysis as the date approaches.