Apparently Tila Tequila Is No Fan of Threesomes with Shawne Merriman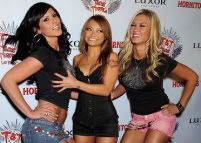 When this story first came down Sunday morning, we gave Shawne Merriman the edge when it came down to whose side to believe between him and Tila Tequila. Sure Shawne's a roider but Tila's a grade-A attention whore who also happened to be drunk. That's a nightmarish combo. Well surprise surprise, it sounds like a drunk-ass Tila caused most of the issues here. From KGTV-San Diego via Pro Football Talk:
Witnesses at Merriman's home said the three-time Pro Bowl linebacker went to his bedroom with two women.
…
Sources said Tequila walked into the room and Merriman asked her to join them. However, the sources said Tequila reacted angrily and threatened to have sex with a member of Merriman's entourage. According to sources, Tequila was intoxicated, and she got naked and attempted to leave the house. Sources told [News 10 reporter] Vara that Merriman, 25, tried to stop the 27-year-old Tequila, and that is when she called 911.
TILA TEQUILA PICS (aka Merriman's crazy broad)
Yeah, that sounds about right to me. Well Merriman certainly gets what he asked for; you don't mess around with Tila Tequila if you're not looking to get into some sort of a mess. And who's to blame him for suggesting some menage action? Wasn't Tila's show a bisexual dating show? Exactly. Drunk ass *****s.