Micah Grimes Fired for Unapologetically Beating Dallas Academy 100-0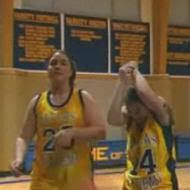 The original title in working was, "Beat a School 100-0 and You Will Be Fired." Only problem was that's not entirely representative of the truth. Micah Grimes has been fired by the Covenant School in Dallas in the wake of his team's 100-0 win over Dallas Academy. Dallas Academy apparently is well-known for its work with students who have learning disabilities. Oh yeah, and their girls basketball team hadn't won a game in four years. After submitting the beat-down on Dallas Academy, officials at The Covenant grew appalled, saying they regret "the outcome of the game with the Dallas Academy Varsity Girls Basketball team. It is shameful and an embarrassment that this happened. This clearly does not reflect a Christ-like and honorable approach to competition." Coach Grimes disagreed with the assessment, responding with the following comment on his website:
"I respectfully disagree with the apology, especially the notion that the Covenant School girls basketball team should feel 'embarrassed' or 'ashamed,' " part of the post says. "We played the game as it was meant to be played and would not intentionally run up the score on any opponent. Although a wide-margin victory is never evidence of compassion, my girls played with honor and integrity and showed respect to Dallas Academy."
The opposing coach acknowledged that Grimes began to call off the dogs early on but that Grimes later instituted another version of a press with his backups. The opposing coach also estimated that his team maybe got seven shots off. If you ask me, I think it's pretty curious that a team won by the exact score of 100-0. This Vince Lombardi wanna-be should be ashamed of his actions. That's weaksauce. Sportsmanship should come at a higher priority and hopefully he's now learned that.