Tommy Lee and Kid Rock to Fight?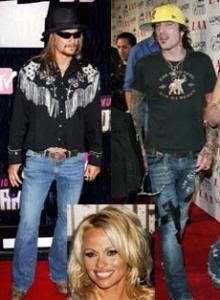 Tommy Lee and Kid Rock got into a rumble a few weeks ago at the VMA's over site favorite, Pamela Anderson. As the venerable Rev Sultan said, why give away for free what they can sell? With that in mind, Ben Maller points out that the two are getting courted for a royal rumble:
KID Rock and Tommy Lee weren't too interested when Las Vegas entertainment maven Jeff Beacher offered them $1 million to settle their feud with a winner-take-all boxing match – but now the pot has gotten even sweeter. "I've teamed up with legendary boxing promoter Bob Arum," Beacher told us, "and now the prize is $5 million."
Normally I'm not into this sort of Celebrity Death Match type of deal, but I can really get down with this. A couple of skinny rock stars to duke it out? That would be tight. Please let it happen.