OK, Who Didn't Vote Brady for MVP?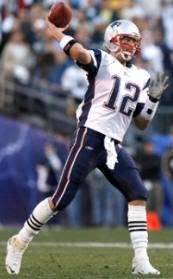 The news of the day isn't so much that Tom Brady was voted the NFL MVP, but rather, that a writer voted for someone other than Brady as MVP. Tom Brady received 49 of 50 votes as the NFL's MVP according to the AP vote. Apparently the one person who didn't vote for Brady chose Brett Favre as his MVP. Sure, Favre had a great, unexpected comeback season, but how could you possibly vote for anyone other than Tom Brady? That's like some dickwod not voting Tony Gwynn and Cal Ripken to the Hall of Fame because they don't believe anyone should make it unanimously on the first ballot. Makes no sense.
Let me ask this: what more do you want a player to do before you award him the MVP? Tom Brady had the best season by a quarterback EVER in the history of the game. How is it possible that that isn't good enough for someone? Brady broke Peyton Manning's single season touchdown record by throwing for 50. His touchdown to interception differential was greater than any other quarterback in history. He led his team to a 16-0 regular season — the first time that had ever been done. He finally gets some receiving weapons around him and utilizes them to his advantage, only to get snubbed by one writer. Brady proved that if Daunte Culpepper could throw for nearly 40 TDs with Randy Moss, he would throw for 50. In his first year ever in the league with true receiving weapons, Brady took complete advantage of his tools to put up a record breaking season. What more do you want from him? How can you not vote Tom Brady as MVP?

UPDATE: Via the comments, looks like we have our man.