Greatest Sports Collectible Ever?
I saw this little item in Sports Illustrated a few weeks ago and thought that it might just be the perfect addition to any serious sports fan's memorabilia collection: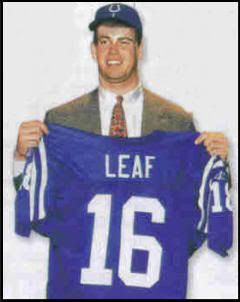 Not unlike the Patriots version of the Perfectville commercial, this is what would have been had history changed its course. As Ryan Leaf told Dan Patrick, he has a personalized Colts jersey:
It's ironic: I had some of my storage stuff from Montana shipped down to Texas, and I ran across — I forgot I even had it — an Indianapolis Colts jersey, number 16, with LEAF on the back, that I think they had ready for draft day. I'm thinking about auctioning it off for charity. There's no reason for me to keep it.
I'm not big into collectibles, but I'd be willing to shell out some serious coin for that, not to mention this Todd Marinovich jersey. Dude, how many people you know rolling into sports bars with a Cryin Leaf Colts jersey? How money would that be? Sell it Cryin, sell it!