Money's Not a Thing for Sean Payton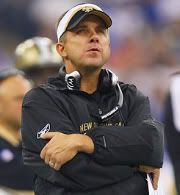 If you're a Saints fan at least you can be happy that you have one side of the ball taken care of. Problem is, that side of the ball's been fine since Drew Brees came to town; it's the defense that stinks. The Saints fired their defensive coordinator after the season and wound up in a bidding war to try and convince Gregg Williams to join their staff. Things got pretty interesting according to Jay Glazer:
FOX Sports has learned that Saints head coach Sean Payton wanted Williams so much that he is actually giving up $250,000 of his own salary and shifting it to Williams' first year of his deal in order to sweeten the pot. Not sure I've ever heard of a head coach going that far to get his guy.
I love seeing guys put their money where their mouth is when it comes to winning and this is a prime example. Payton was extended by the franchise recently so he's pretty secure financially, and he'll have even more power if New Orleans makes a strong run. And in that tough division, they had to do something to step up. Now they just need to lockup speed racer at linebacker to start the rebirth.