Tom Brady and Gisele Bundchen Planning to Get Married?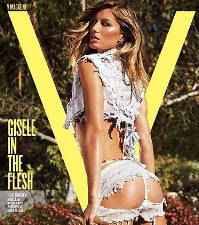 You figure it has to be a possibility considering the two have been dating for a good amount of time now. And much like Kim Kardashian and Reggie Bush, rumors are now swirling that Tom Brady and Gisele Bundchen could tie the knot:
The rumours about the soon-to-be wedding were sparked after the bombshell sold off her pad at the same time as Brady did.

"The couple are hunting for their own love nest. It would be a safe bet they're planning to get hitched," News of the World quoted a source as saying.
Well, if you want to talk about sports betting, I thought it was a pretty safe bet the Patriots would win the Super Bowl, and we all know how that turned out. So no, we shouldn't be getting ahead of ourselves here, but the fact that they're both selling their places is somewhat telling. If anything does happen, I can't imagine it would be anytime before the season ended, so let's not jump the gun. That would only add to Tom Brady's off-field drama (though it sure doesn't seem to bother him and his record 52 touchdown passes, does it?).