Vinny Testaverde Refuses to Die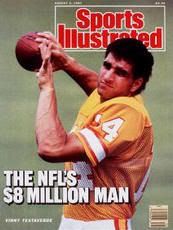 Damn, I remember back in the day when I was first growing up and Vinny Testaverde was just finishing up what had been a pretty decent career. Now, I'm no longer growing up, but the same can be said about Vinny. And rumblings are that the pre-historic, leather helmet wearing, tie-dyed t-shirting Testaverde will be signing with the Patriots once again this year. As he told The Tony Bruno Show on Sporting News Radio:
"I was up there for minicamp," he said. "The plan was to wait until two-a-days were over, then I was going to go on in there and join the team then."
Fact or fiction: Vinny Testaverde has been in the NFL longer than most NBA players have been born? Fact. Fact or fiction: you would rather have Vinny Testaverde as your backup than Joey Harrington? Probably fact. And what does that say for you? It will be interesting to see if the Pats actually sign him to a contract. Just another Bill Belichick specialty for you — a 43-year-old quarterback. Now you know their secret weapon.