Alexander Ovechkin Is a MAN!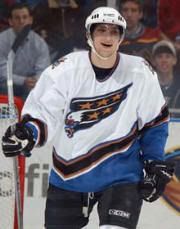 It's not too often that I get overwhelmed by an athlete's performance on the field. Last night would be one of them, though it wasn't on a field. I talked recently about the Caps dishing out a 13-year $124 million contract to sign stud Alexander Ovechkin. Now we have all the proof we ever needed to know why they made the investment. Thursday night Alexander Ovechkin scored four goals and had five points in the Caps'5-4 overtime win in DC against the Canadiens. Yes, that's a great night no matter what, but it's not what makes the story special. Get ready for the kicker. Ovechkin did it all with a nose he broke getting checked into the boards, stitches in his lip after getting hit by a puck, and a cut below his eye from a high stick two nights prior.
"Today was a special day," Ovechkin said with a smile. "I broke my nose, have stitches (and) score four goals. Everything (went) to my face."
Oh my goodness. That's one heck of a night. Can you believe it? Maybe figure that's like Philip Rivers throwing five TD passes and leading the Chargers to a win over the Patriots on his peg leg. Or LT running for another 200 yards and four TDs after hurting his knee in the game. Yes, they play through injuries in hockey, but how many guys are good enough to score four goals and be in on all their team's goals in a game where they get so banged up? Man, I have a lot of respect for Ovechkin — he's awesome.