Carlos Zambrano Planning Retirement, Giving Gatorade Machines a Break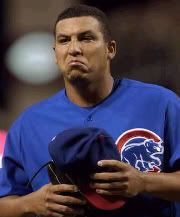 Question: When you're 28-years-old, in the second year of a $91.5 million contract, and you just won your 100th game in the majors, how do you celebrate? If you're Carlos Zambrano, you do it by announcing your retirement plans. In his first game back from a six-game suspension for throwing an on-field fit that included busting up a gatorade machine, Carlos Zambrano held the Reds to two hits and homered in a 2-1 win on Friday night. The horse is a third of the way to Randy Johnson who just reached the 300-win mark but says he's not going to try to make it into that club:
"Three hundred? Me?" Zambrano said. "No, I'll be out of here in five years."

"After this contract, I'm done. I'm serious. I don't want to play. I want to help this team, I want to do everything possible to win with this team, but after five years or four years, or whatever I have left on my contract, I just don't want to play. I want to stay home and see my daughters grow up and hang out with my family more. Do you know how many Mother's Days I spend with my mother? Do you know how many things I've lost in my life? It's good to be here, it's good to play baseball — don't get me wrong, but five years, four years, whatever I have left in my contract, I will retire. That's it."
Zambrano only has three more seasons left on his current deal, and there is a vesting option for a fourth year depending on how well Carlos pitches in his final two seasons of the contract. If he does indeed walk away from the game after this contract, he'll be in his young 30s with plenty of money saved up (hopefully) and lots of years in front of him. His retirement would inspire more comeback offers than Roger Clemens received. I'm not sure if this is some sort of negotiating ploy (I think that would be too smart for Big Z) but this is a brilliant scheme to gain some leverage for his next deal.
(via Fark)