Allen Iverson Has Grown Up, Matured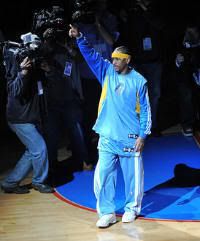 Ten years ago, this would have been a joke of a headline. A.I. was the badboy of the NBA — a posterchild for the negative image surrounding the league. He was in and out of trouble, all tatted up, and getting into issues with his coaches. He was the antithesis of what David Stern wanted in the league. These days however, the script has flipped. A.I. has become a positive image in the NBA. He was received warmly in Philadelphia Wednesday night, greeted by the din of a standing ovation. In a roundtable discussion on ESPN recently, he was dubbed the NBA player most similar to what Brett Favre represented in the NFL. So how has the transformation taken place — one that strikes me as so eerily familiar to that of Andre Agassi? A.I. explained after the loss to the Sixers in his post game media conference:
People wonder why you don't hear my name with a bunch of negative stuff anymore … I'm 32-years-old — I'm too old for that. As a person, I just don't do the same things. Looking back on it, I'm embarrassed about a lot of those things. A lot of those situations didn't have to happen, and I could have controlled all of it. So when I ran-in with coaches and the organization at times, a lot of the time just being young and not realizing it was my fault, it was. I could have controlled it, but I chose not to, and that's why I went through the downs that I went through.
After seeing all the love spread around at the Wachovia Center and the way Iverson was touched by the fan appreciation, it was hard not to get caught up in the emotions. If you're one who once viewed Iverson in a negative light, there's no shame in changing your stance and opinion towards the man considering he's changed as well. It's great to see a grown-up A.I. who takes responsibility for his foolish ways as a youth, and who has now become the vocal leader for an NBA team for the first time in his career. Between his hustle, toughness, gritty play, and evolved character, it's extremely difficult to root against Allen Iverson. He has certainly made me a fan of his.