Carmelo Makes Top 10 of Good List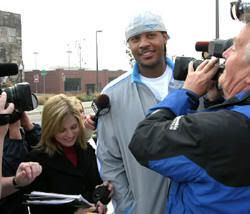 I've already expressed my disdain for Captain Limpwrist here on the site. And frankly, as far as I'm concerned, Melo can never do anything in my eyes to repair his image after appearing in the Stop Snitching video. That's just irreprehensible. But even an immature punk like Melo deserves a little recognition for his good deeds off the court. As pointed out by rhymes with snitch via Bossip, Carmelo Anthony made The Giving Back's Top 30 list for largest charitable donations of 2006.
Melo ranks 8th for $4,282,000 contribution to CAF Youth Center in Baltimore, AAU Basketball, Syracuse University Recreational Center, and other charities. First on the list is Oprah with a $58 million contribution/donation. 5th was Tiger Woods for a $9,500,000 check he scratched. Other sports figures on the list were Arnold Palmer, Andre Agassi, Tiki & Ronde Barber, George Steinbrenner, Tony Stewart, and Lance Armstrong.
Here's the deal — I'm sure there are plenty of people in the world who have made larger contributions than that but haven't received the recognition for it. My guess is that if you searched for Carmelo's marketing firm, it will be the same as Tony Stewart's, or Tiki Barber's, or Lance Armstrong. And then if you search a little further, you'll find a connection between The Giving Back and said marketing firm. Whatev, that's just my skepticism seeping through. In the end, Melo does deserve a little recognition. I mean seriously, $4 mil is a lotta money, I don't care who you are, what you make, nor what kind of house you own.