Cavs Goal Is Just to Reach the Finals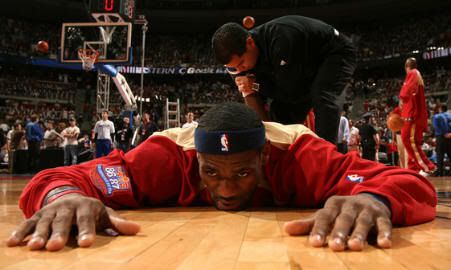 I already did my fair share of ripping on LeBron. Obviously I have no complaints about his Game 5 performance — how could I? But I do have a complaint, or rather a point to make. LeBron does not sound like a man ready to win an NBA Championship. He sounds to me like a man happy to just beat the Detroit Pistons (which still hasn't happened yet). This is not me speaking, it's LeBron. From one of his post-game interviews:
We were very excited about just being in the post-season last year and this year we're a different team. We know this team is not going to give up in Detroit. We got one goal and that's to make it to the finals.
Like I said, those aren't my words — those are LeBron's. Their only goal is to make the finals, not to win the NBA title. It's possible that LeBron could shoot his wad just trying to beat Detroit. For all we know he could be spent. Meanwhile, the Spurs are lounging at home, awaiting the winner of the Cavs/Pistons. Seems to me like they'll have a huge edge on whomever they play.