Kevin Garnett Doesn't Deny He Tanked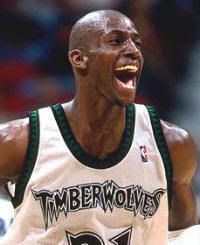 One of the big stories floating around on Tuesday was the comment from Timberwolves owner, Glen Taylor, who said Kevin Garnett tanked down the stretch last season. Taylor went out of his way to specify that it wasn't the entire team, but rather solely KG, who was tanking towards the end of the year, by not playing in the last five games. Well, obviously with his head focused squarely on the matter at hand — the Houston Rockets and their 22-game winning streak — KG wasn't digging for NBA headlines during the day. So when he was interviewed after the game by TNT's David Aldridge, he hadn't heard about Taylor's comments. When told by Aldridge what Taylor had said, here was Garnett's response:
I'm in Boston, I care less what Glen Taylor thinks of Kevin Garnett. Right now, huge win for us. That's nonsense. I don't even know why he would bring that up …"
Now I'm not going to say that Garnett's response was an indictment, but I will say I'm surprised he didn't defend himself against the charges by Taylor. I would have expected something to the effect of: "I played there my whole career, gave it my all, took them to the playoffs … I always worked hard there." Sure, KG was more or less ambushed by Aldridge about the matter, but I'm still surprised that he didn't outright deny the tanking charge. That seems to me like it would have been the natural reaction if it were the case.