LeBron James on Winning the MVP: I Did it for the Kia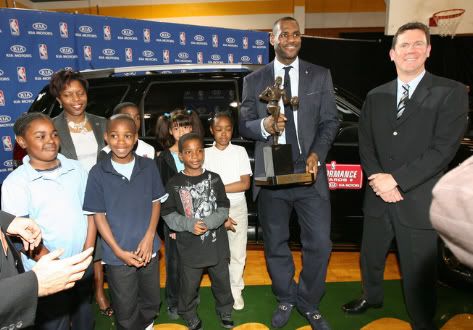 I was pretty surprised that the MVP voting turned out to be such a landslide in favor of LeBron James. Even though Dwyane Wade made an excellent charge after the All-Star break, his dropoff down the stretch made LBJ the easy selection. I just can't believe it was that easy. LeBron got 109 of the 121 available first-place votes, dominating the race (Kobe and Chris Paul got two each, Wade got seven, and Dwight Howard got one). Upon receiving the award, LeBron told the members of the audience in attendance that he was really just doing it for the Kia (referring to the car given to the recipient of the award), and that he had visions of driving their fine SUV to motivate himself while he was playing on the court. OK, that never actually happened, but it's funny to think that a guy who drives a six-figure Ferrari to the event is getting a $27,000 car for free. Right, because that's just what he needs.
LeBron actually accepted the award at his high school in Akron, praised his teammates and said that it was their award though it would be kept at LeBron's house. I pretty much have to agree with Jimmy from SI's Extra Mustard who wrote: "unless your team is playing the Cavs, how can you not like LeBron James? The guy accepted his MVP trophy at his high school yesterday, and gave each of his teammates a new camera." He seems like a pretty classy guy, and the same can actually be said for most of the players involved in the MVP race. Now that he's 24 and already won his first MVP, the logical question is to ask how many more can he win?
I think MVPs are hard to come by because you never know what's going to draw the attention of the media and you never know when they'll grow tired of rewarding a guy for doing the same thing year after year. You also never know when they'll give it to someone else just because "the guy finally deserves one." If I had to make a guess about LeBron, I'd say he's due for four or five MVPs in his career. I'm just hoping he doesn't wind up teaming up with another star player like Wade or even a guy like Bosh — that would be totally unfair.
By the way, nice to see that Mike Brown dressed up for the ceremony.