Pat Riley with the Quote of the Night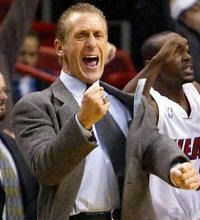 Much like most other people in the media, I love it when guys step out of the norm and get creative with their pre or post-game comments. That's why we love Gilbert Arenas so much — dude says stuff that's completely off the wall, like when he told us about his pube-shaving incident. Anyway, when the Miami Heat won Tuesday night breaking their 11-game losing streak, head coach Pat Riley could have settled for the typical "It's nice to finally get a win, hopefully this will set us in motion for the rest of the season so we can finish strong," or something to that effect. Instead, Riley delivered what was likely the top simile by a coach this year:
"I feel like a mosquito in a nudist colony," Riley added. "I know what to do. I just don't know where to start."
I've never even heard anything remotely similar to that line. Where does Riley come up with this crap? Damn, his team may be boring as all holy NBA putridness this year, but at least this dude is providing us with some entertainment. Oh, and Riles, for the record, head for the hottest chick first (not exactly sure how that translates in a locker room situation, however).