Manny Pacquiao, Freddie Roach Call Out Floyd Mayweather Jr.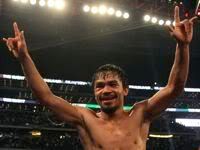 Saturday March 13th, 2010 was supposed to be around the same time Manny Pacquiao and Floyd Mayweather Jr. were to fight. The dream matchup never went through because Floyd wanted Pacquiao to follow pre-fight Olympics-style drug testing but Manny Pacquiao refused. Instead, Pacquiao filled the void in his schedule with Joshua Clottey and Mayweather moved onto Sugar Shane Mosley. Pacquiao whopped up on Clottey as many expected, and that naturally drew all the postfight questions regarding a potential bout with Floyd Mayweather Jr. Both Pacman and his trainer Freddie Roach seemed eager to touch gloves with Pretty Boy in their post fight interview on HBO PPV:
Pacquiao: "It's up to him. For me, it's no problem to fight him. I will fight him anytime. He should win against Mosley. If not, Mosley and I will fight. [Floyd's] style is not a difficult style; he needs to handle his business in his next fight."

Roach: "It's the fight the world wants to see. Me and Manny want to see it. Floyd, let the commission do their job — you don't run the sport! Get in the ring and fight us."
Sure, Mayweather may be scared of fighting Pacquiao — for good reason — Pacman's dangerous. But as I've said before and as I'll say again until Manny relents, submitting to random drug testing should not be a problem unless Pacquiao has something to hide. Sack up Manny, take the tests, and let's hope for a Mayweather win so the world can get what it wants. Plus, how could either fighter turn down an easy $30-$40 million payday?