NCAA is Right to Investigate OJ Mayo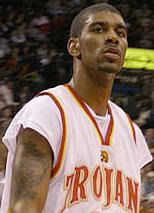 A lot of people are laughing off the NCAA investigation of USC freshman O.J. Mayo, one of our favorite athletes to be cleared of pot charges, for accepting free tickets to a Nuggets game from his friend Carmelo Anthony. At its most basic level, a friend offered Mayo a small gift and he accepted. If a friend called you up today and offered you a ticket to a Laker game because he had an extra seat, you'd take it, right? Well, as the argument goes, so would O.J. Mayo. Why should that be a problem? I'll tell you.
The NCAA represents collegiate sports — amateur athletics. The line between college basketball and pro basketball had disappeared up until recently when the NBA made high schoolers attend one year of college to be eligible for the draft. The point is that the NCAA is looking out for its amateur, collegiate athletes, trying to keep them in school. By showing up at NBA games sitting in baller seats, Mayo is exposed to an enticing lifestyle and his head is undoubtedly infiltrated with thoughts about turning pro. Sure, he was a 99% one-and-done guy entering USC, but that small percent of him staying more than one year existed. Until now, when OJ Mayo is sitting in sweet Laker seats, thinking about all the celebrities he could play in front of next year, judging his game against NBA players firsthand.
Many sports fans, USC fans included, probably view this as a petty infraction that doesn't warrant any sort of investigation. You are right on the most elementary basis. But when you really think about it, if you're a fan of college sports, this sort of rule is designed for you. And USC fans, if you're thinking properly, you should want Mayo as far away from the glitz and glamour of the NBA as possible.
UPDATE: The incident has been resolved and the NCAA asked Mayo to make a $460 contribution (the total value of the tickets) to a charity for the violation. Also, JS does a brilliant job taking me to task in the comments — a must read.