Northern Iowa Should Have Never Upset Top Seed Kansas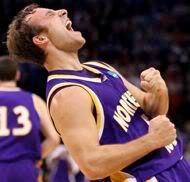 While half of America and everyone in Lawrence is still trying to figure out if Kansas really lost on Saturday, a caller on my radio show made an excellent point that I had overlooked: Northern Iowa should have never been playing Kansas. At least not in the second round. When the brackets were first released on Selection Sunday, my immediate observations were that Kansas got screwed being placed in a ridiculously difficult Midwest bracket, Kentucky's East bracket was also tough, and that Duke lucked out with the easiest draw of all. I was so consumed with complaining about Kansas' bad draw (the toughest two seed in Ohio State, what I thought was one of the toughest threes in Georgetown, difficult fours and fives in Maryland and Michigan State, the best six seed in Tennessee, and a team that already beat them in Oklahoma State at seven), that I totally ignored how under-seeded Northern Iowa was.
Northern Iowa was 28-4 entering the tournament and they had spent almost the entire season in the Top 25. Even knocking them down a few pegs for the lack of difficult competition on their schedule, you figure they'd be a six seed in the tournament — seven at the lowest. Instead, the Panthers got dogged as a nine, four seeds lower than Butler who had an identical record (but much more difficult non-conference schedule). While Notre Dame went from being a bubble squad to a six seed, teams like Northern Iowa got dropped by the committee. For all the complaining I did about Kansas' difficult draw, the one team I ignored was Northern Iowa. Perhaps they were the most under-seeded team in the tournament. We knew they were a solid team the entire season and they proved they were even more than that this weekend in Oklahoma City. And with Kalin Lucas out for Michigan State, they even have a legitimate shot at the Elite Eight.