Tighten up that Entourage, OJ Mayo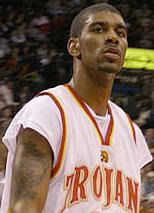 I've already made it pretty clear that I can't stand OJ Mayo for some of his on-court antics. I also said the NCAA was right to investigate him for accepting tickets to an NBA game because that came to close to crossing the line for amateurs going pro. And as you could imagine, I'm not at all surprised to hear the reports by ESPN that Mayo was supposedly accepting gifts from a potential agent the past few years. Dude's been a lottery pick since sperm — of course agents will be on his jock trying to buy him cars (bikes?), phones, clothes, and whatever else you can think of. And judging by his Russian KGB like actions to tell Tim Floyd that OJ Mayo was coming to school, you could see he was a little out there and quite high profile. Here's my one comment to OJ Mayo: tighten up that entourage.
I didn't realize it until like now that the story got out there to ESPN because a former "associate" who used to be in Mayo's inner circle decided to sell the goods. For all we know, the two-wheeling Mayo could be telling the truth that he did nothing wrong and this Louis Johnson character can just be out to get OJ. I certainly think that's possible. But let's be real here: almost all players are on the take. You don't even have to be good and you still get plenty of perks playing at a big time school. Whether it's better grades, improved housing, cars, clothes, or cash, almost all of these guys are on the take. I've seen it happen plenty of times. I can't accuse OJ of doing anything wrong at this point except for having a bad entourage and keeping too high of a profile. When you come to LA to try and build a personality and a brand, you subject yourself to more scrutiny. So OJ: tighten up that entourage if you want to be a big-time personality.
And Pat Forde suggesting USC should get the death penalty for this when all the investigations haven't even taken place? What a nut. If we investigated all D-I schools we'd get the same results and nobody would have scholarships. Then we'd be left with a whole bunch of walk-ons, and you still would have people coming to watch their alma-maters play. And you know what, that wouldn't be such a bad thing.